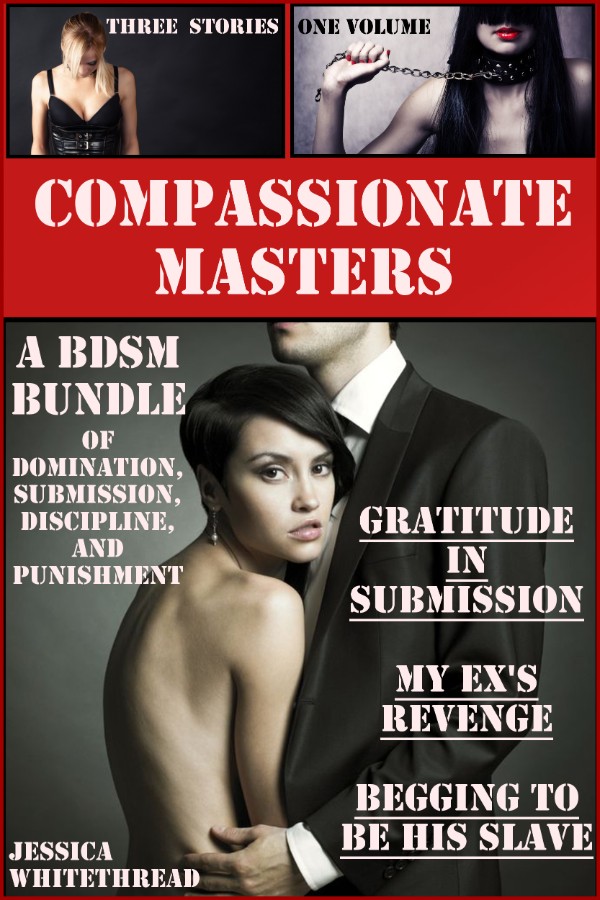 Compassionate Masters: A BDSM Bundle of Domination, Submission, Discipline, and Punishment
Reader Advisory: These stories are for mature audiences only and feature intensely erotic situations, bdsm play, spanking, whips, humiliation, discipline, punishment, submission and dominance. All characters are 18 or older.
Compassionate Masters contains three BDSM-themed stories of intense eroticism, dominance and submission, discipline, and humiliation. If you love power play, degradation, and all the moments of emotional poignancy such kinks can bring out in a relationship, this collection was assembled with you in mind.
Gratitude in Surrender
Victoria does her best to please her master but, like everyone, she makes mistakes. On a morning when she oversleeps and goes to him later than expected, his interrogation reveals that she often touches herself after their sessions together when he has not allowed her release. It is clear, her master observes, that she has not yet learned the meaning and joy of true submission.
My Ex's Revenge
After a series of relationships sabotaged by her own controlling ways, Regina returns to the man she remembers being happiest with, only to find him changed. A fulfilling and charged relationship may await, but only after Connor has made her suffer for her past transgressions and made it very, very clear who is now the dominant and who is the submissive.
Begging to Be His Slave
Melissa has never experienced anything as powerful or fulfilling as her submission to the mysterious Mr. A, but their meetings are sporadic and she is desperate for more. Tormented by needs she never knew she had and which only he can satisfy, she discovers the location of his home. She sets out to beg him for more, ready to pay any price, but is soon derailed by an unwelcome surprise.
Approximately 79 pages (19800 words) in length.
---
This book is currently available in epub, pdf, and mobi digital formats, and is on sale for
4.99
It also available on a number of online book retailers, including :

Google
Smashwords
---
bdsm, domination, submission, discipline, bondage, spanking, humiliation, degradation, masochism, nipple torture, power play, orgasm denial, humiliation and submission
First Published 2014-04-17 by The Red Spot Press