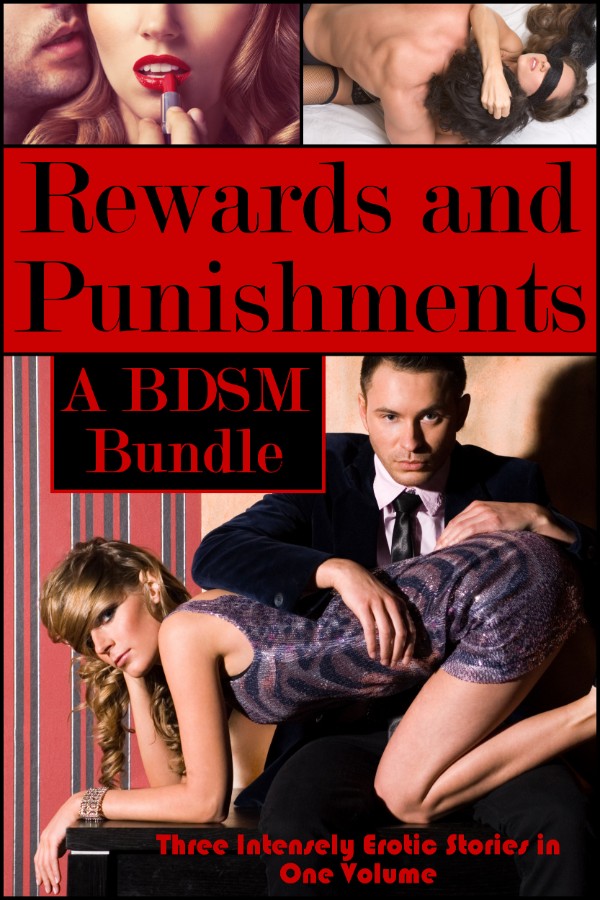 Rewards and Punishments: A BDSM Bundle of Dominance, Submission, Discipline, and Humiliation
Reader Advisory: These stories are for mature audiences only and contain intensely erotic situations, bdsm play, spanking, whips, bondage, humiliation, discipline, punishment, submission and dominance. All characters are 18 or older.
Rewards and Punishments contains three BDSM-themed stories of intense eroticism, dominance and submission, discipline, spanking, and humiliation in all forms.
The Dinner Party Centerpiece
Erica's dominant, Jonathon, has come up with an interesting way to involve her in a dinner party he intends to throw for some of his old law school friends. Although she is self-conscious around the high society that Jonathon moves in, he is going to have her serve the food over the course of the evening and has designed a very special outfit for her to wear for the occasion. The guests of the party will be given buttons to trigger a vibrating harness underneath Erica's dress and are encouraged to use it as a way of thanking her for her prompt service. If that weren't enough, an already horrified Erica is told that the penalty of spill or misstep will be to serve dessert without the harness, or the dress. As the night unfolds, her attempts to avoid this terrifying prospect may accomplish nothing but to place her at the center of a spectacle more provocative than anything originally planned.
Awakening of a Submissive
When Annie agrees to accompany her dom to visit an old friend of his in the BDSM scene, she does so to make him happy, but the prospect of engaging in role-play with a strange man terrifies her. Her introduction to Christian Fortier and a glimpse of his treatment of the women that live with him in his Cambridge townhouse only intensify her apprehension, although other, more confusing emotions begin to make themselves known within her as well. If she can only open herself to his experienced and almost invasively perceptive control, this mysterious figure offers to banish her confusion and show her the depths and rewards of submis
Approximately 84 pages (21000 words) in length.
---
This book is currently available in epub, pdf, and mobi digital formats, and is on sale for
4.99
It also available on a number of online book retailers, including :

Amazon
Google
Smashwords
---
bdsm, discipline, spanking, humiliation, domination submission, public humiliation, submissive training, forced exhibition, humiliation and submission, punished into submission, punished in public
First Published 2014-04-25 by The Red Spot Press