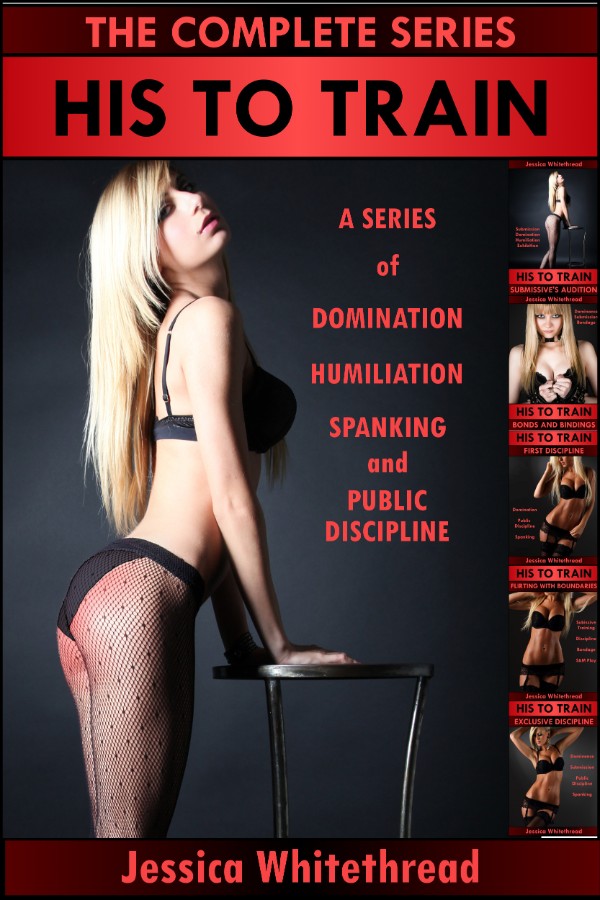 His to Train: The Complete Series (Domination, Humiliation, Spanking, and Public Discipline)
Reader Advisory: These stories are for mature audiences only and feature intensely erotic situations, bdsm play, crops, spanking, public discipline, humiliation, multiple partners, submission and dominance. All characters are 18 or older.
Five toe-curling stories of dominance and erotic discipline, now available in one volume!
Jennifer has always been curious about the kink lifestyle, but her exposure to it with her current partner has been a bit limited. In the aftermath of an eye opening experience with a couple acquaintance within the scene, Jennifer and Robert apply to become members in the highly exclusive Tremboix Society, a BDSM network of the city's most powerful and influential. Rather than questionnaires or resumes, the Tremboix uses only one metric to assess potential couples: the worthiness of the submissive. So it is that Jennifer finds herself standing alone before a gathering of the city's most powerful and sexually dominant men with only one task: obey.
His to Train: The Complete Series follows Jennifer along the initial steps of her sexual self-discovery, first on the public stage of the Tremboix Society, and then into the house of discipline established by one of the society's most prestigious members who, intrigued by Jennifer's charms, makes a rare offer to train her personally over the course of a week.
Approximately 136 pages (34000 words) in length.
---
This book is currently available in epub, pdf, and mobi digital formats, and is on sale for
5.99
It also available on a number of online book retailers, including :

Amazon
Barnes and Noble
Google
Smashwords
---
bdsm submissive female training, alpha male, domination submission spanking humiliation discipline, domestic discipline spanking dubcon romance
First Published 2014-10-17 by The Red Spot Press