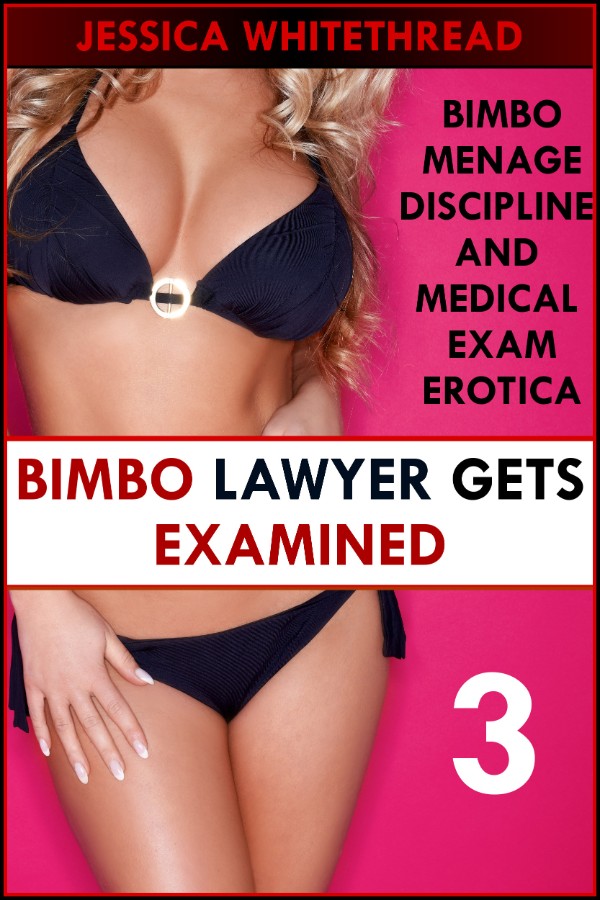 Bimbo Lawyer Gets Examined (Bimbo Menage Discipline and Medical Exam Erotica)
Reader Advisory: This story is for mature audiences only and features intensely erotic situations, bimbofication, the use of potent aphrodisiacs, a highly erotic medical examination, body transformation, multiple partners, group sex, anal sex and double penetration, submissiveness and dominance. All characters are 18 or older.
An impromptu display in Judge Harding's courtroom seems to have landed Veronica Tulane on the bar association's naughty list, and it only gets worse when a search of her possessions reveal a bag of suspicious white pills which she can neither deny nor explain.
The three man committee wants to know what's going on and they're determined to penetrate right to the core of the mystery. When Veronica volunteers to take a pill to show how harmless they are, she soon finds herself showing she has nothing to hide in a much more literal sense.
Before the meeting adjourns, the fertile, over-sexed young bimbo will have the men fill the holes in her case and ensured her examiners leave satisfied with her explanation.
Approximately 40 pages (10200 words) in length.
---
This book is currently available in epub, pdf, and mobi digital formats, and is on sale for
2.99
It also available on a number of online book retailers, including :

Amazon
Barnes and Noble
Google
Smashwords
---
alpha male, medical exam, breast expansion, doctor patient sex, bimbo transformation, lactation milking, dominance submissive, aphrodisiac bimbofication, menage gangbang group sex
First Published 2015-01-30 by The Red Spot Press