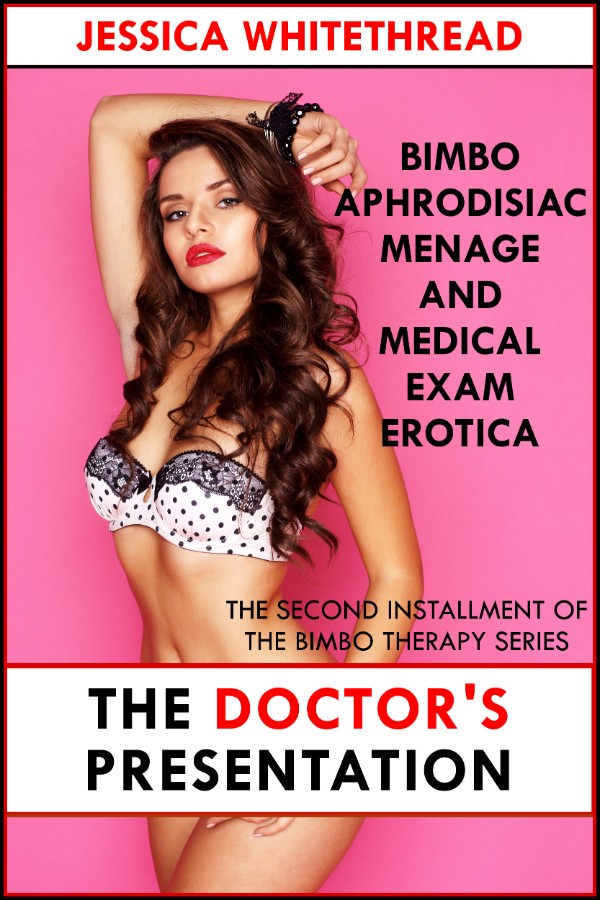 The Doctor's Presentation (Bimbo Aphrodisiac Menage and Medical Exam Erotica)
Reader Advisory: This story is for mature audiences only and features intensely erotic situations, bimbofication, the use of potent aphrodisiacs, multiple partners and rough group sex, medical examination, public exhibition, a dominant older man and the increasingly submissive, fertile young subject of his experiments. All characters are 18 or older.
Hopelessly struck by Dr. James Vellano's good looks, celebrity renown, and of course his erotic pleasure therapy techniques, Kelly Mundson has surrendered herself to the famous researcher's experimental project to create the perfect sex kitten: voluptuous, horny, and eager to please. A month ago she was just a shy intern drifting without direction, but through intense and extensive pleasure therapy - along with the physical modifications that have given her the body to make any man go wild - she has proven a flawless test subject for the doctor's experiments in creating the ideal bimbo.
But now he's decided it's time to bring this breakthrough the attention it deserves, and he's going to put Kelly centerstage for a demonstration of his new techniques to a group of colleagues flying in from across the country. But maybe even he has underestimated the power of the changes he has inspired in his little project, because once the doors are closed and the presentations have begun, things seem ready to get hot and out of control, very fast.
Can the doctor's submissive, pleasure-loving creation handle all the appetites of a world driven wild by her sexual allure? Or will she prove powerless to resist even her own scientifically enhanced urges to take it hard and fast from any man who will give it to her?
The Doctor's Presentation is the second installment of the Bimbo Therapy Series. Each episode can be enjoyed in order or as a standalone story.
Approximately 48 pages (12000 words) in length.
---
This book is currently available in epub, pdf, and mobi digital formats, and is on sale for
2.99
It also available on a number of online book retailers, including :

Amazon
Barnes and Noble
Google
Smashwords
---
first time, older man younger woman, alpha male, breast expansion, doctor patient erotica, public gangbang, bimbo transformation bimbofication, erotic medical exam, obedience submissive training dominance, menage group sex threesome
First Published 2015-04-02 by The Red Spot Press