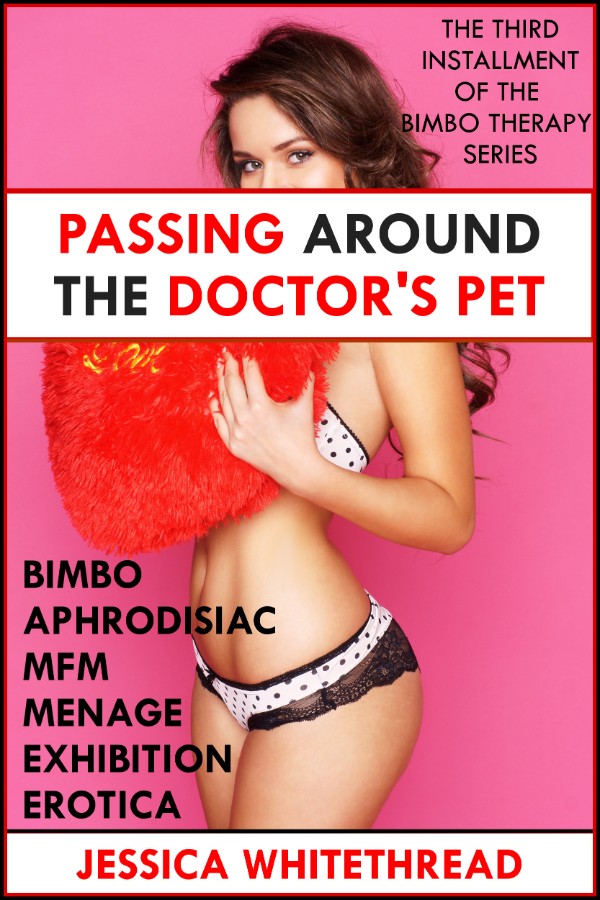 Passing Around the Doctor's Pet (Bimbo Aphrodisiac MFM Menage Exhibition Erotica)
Hopelessly struck by Dr. James Vellano's good looks, celebrity renown, and of course his erotic pleasure therapy techniques, Kelly Mundson has surrendered herself to the famous researcher's experimental project to create the perfect sex kitten: voluptuous, horny, and eager to please. A month ago she was just a shy intern drifting without direction, but through intense and extensive pleasure therapy - along with the physical modifications that have given her the body to make any man go wild - she has proven a flawless test subject for the doctor's highly charged experiments in creating his ideal bimbo.
In the wake of his success, Dr. Vellano's lab is moving to a private facility and he's sent Kelly to stay with his friend across town. But after weeks living in a world of eager obedience and simple pleasures, she's become dependent on the man that transformed her - and on the pleasure treatment regimen that satisfied her overcharged sex drive. Deprived of them both, the sheltered, pleasure-loving test subject soon finds herself helplessly horny and helplessly lost in the big city, trying to pretend she doesn't have a body specifically designed to make all the men around her wild with desire.
She wants to be a good girl and find Dr. Vellano's friend, but soon she'll be unable to resist even the most casual advances, and it's only a matter of time before someone comes along to take advantage of the situation.
Reader Advisory: This story is for mature audiences only and features intensely erotic situations, bimbofication, the use of potent aphrodisiacs, multiple partners and rough group sex, public exhibition, a dominant older man and the increasingly submissive, fertile young subject of his experiments. All characters are 18 or older.
Approximately 43 pages (10800 words) in length.
---
This book is currently available in epub, pdf, and mobi digital formats, and is on sale for
2.99
It also available on a number of online book retailers, including :

Amazon
Barnes and Noble
Google
Smashwords
---
first time, older man younger woman, alpha male, breast expansion, doctor patient erotica, bimbofication, bimbo transformation, public gangbang, obedience submissive training dominance, menage group sex threesome
First Published 2015-04-22 by The Red Spot Press