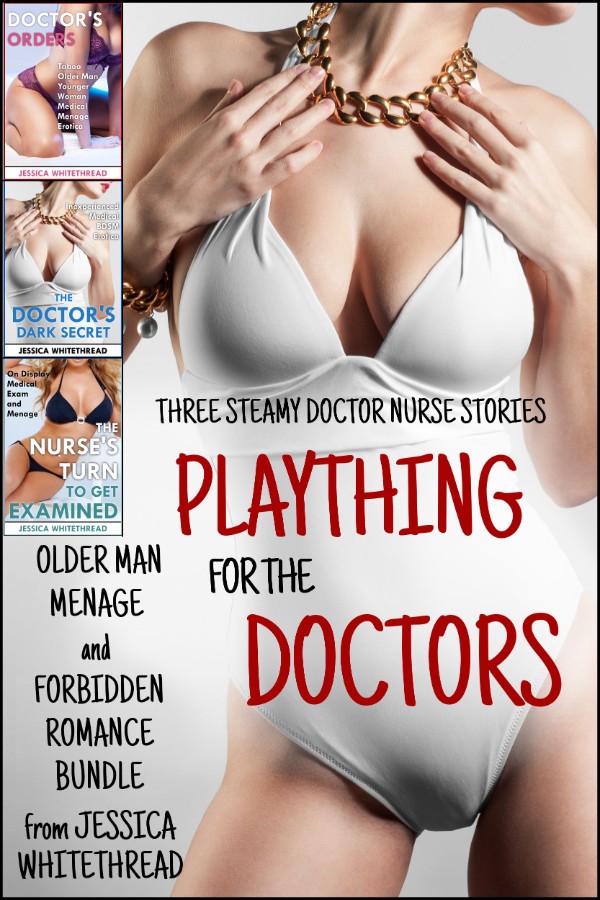 Plaything for the Doctors: Three Steamy Doctor Nurse Stories (Older Man Menage and Forbidden Romance Bundle)
A doctor's office is a charged environment: clothes come off, bodies are explored, and the doctor is the one in control.
The young nurses in these stories fly a little too close to the flame when they incite the lust of the handsome, alpha men who are used to getting their way ...
Reader Advisory: These stories are for mature audiences only and feature intensely erotic situations, wealthy, powerful, and well-hung doctors and the fertile young women who work for them, multiple partners and rough group sex, dominance and submissiveness. All characters are 18 or older.
Check out the preview for a peek at all the hot action inside that would never be allowed in a public description!
Approximately 64 pages (16000 words) in length.
---
This book is currently available in epub, pdf, and mobi digital formats, and is on sale for
4.99
It also available on a number of online book retailers, including :

Amazon
Barnes and Noble
Google
Smashwords
---
medical exam humiliation erotica, doctor nurse sex stories, older man younger woman, group sex menage gangbang, sex stories bundle anthology, workplace sex romance, nurse doctor romance
First Published 2016-01-21 by The Red Spot Press