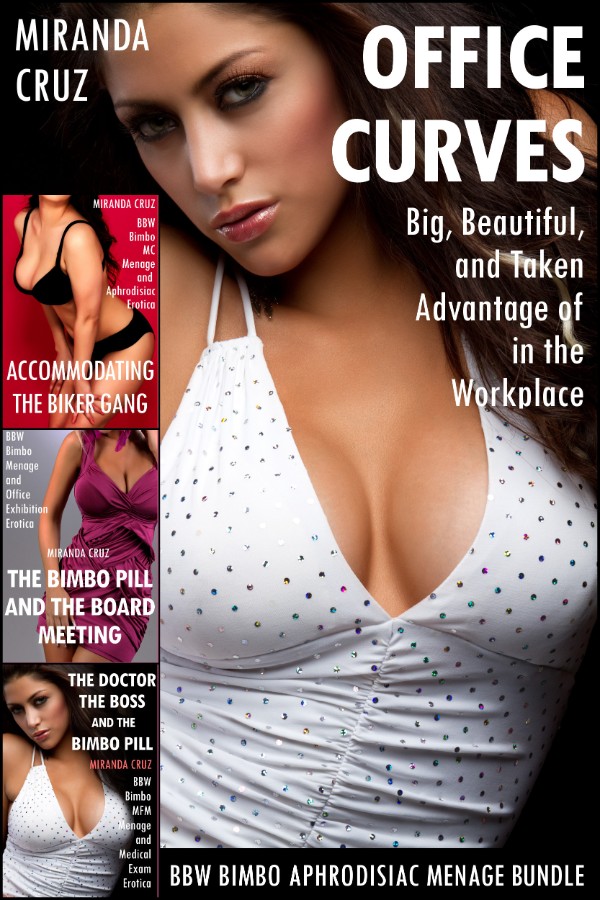 Office Curves: Big, Beautiful, and Taken Advantage of in the Workplace (BBW Bimbo Aphrodisiac Menage Bundle)
There's nothing hotter than a sexy, curvy professional woman who gets a little incentive to let loose where it's completely inappropriate and gives the handsome alpha males who work around her the final incentive to do what they've been thinking about for a long time and do it as hard and fast as they want. These three stories capture moments like that, with the added heat of a medical exam, an outlaw MC gang, and a public presentation.
Reader Advisory: These stories are for mature audiences only and feature intensely erotic situations, voluptuous BBWs subjected to potent aphrodisiacs, alpha male biker outlaws, a medical exam, a billionaire older man and younger fertile woman, body transformation, multiple partners and gangbangs, anal sex and double penetration, submissiveness and dominance. All characters are 18 or older.
This three story bundle includes the following titles from Miranda Cruz, previously only available as stand-alone books:
- Accomodating the Biker Gang (BBW Bimbo MC Menage and Aphrodisiac Erotica)
- The Bimbo Pill and the Board Meeting (BBW Bimbo Menage MMF and Office Exhibition Erotica)
- The Doctor, The Boss, and the Bimbo Pill (BBW Bimbo MFM Menage and Medical Exam Erotica)
Approximately 92 pages (23100 words) in length.
---
This book is currently available in epub, pdf, and mobi digital formats, and is on sale for
4.99
It also available on a number of online book retailers, including :

Amazon
Google
Smashwords
---
alpha male, breast expansion, bimbofication, bimbo transformation, bbw curvy, bundle anthology, menage gangbang, lactation milking, boss workplace office, dubcon public exhibition
First Published 2015-05-21 by The Red Spot Press