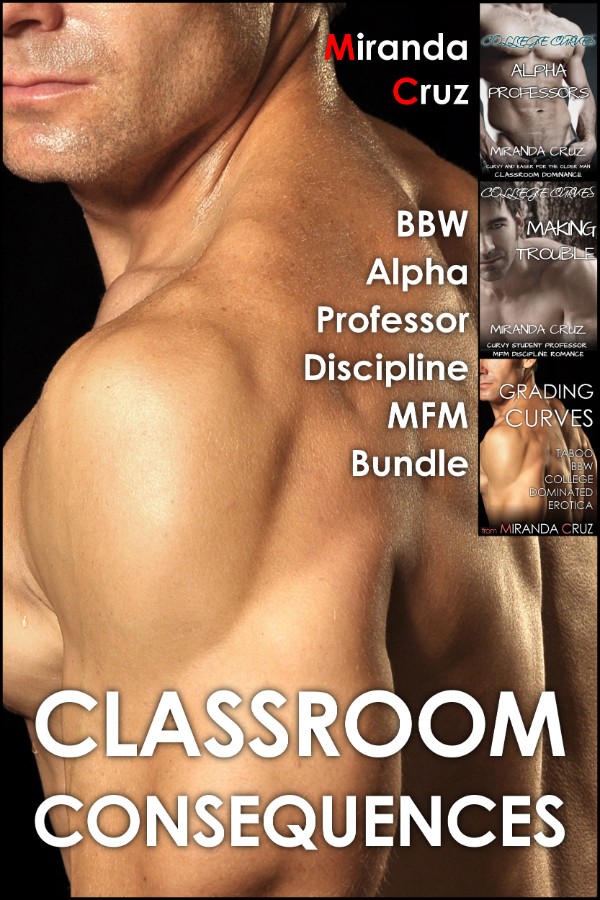 Classroom Consequences: BBW Alpha Professor Discipline MFM Bundle
His hand rested on my ass cheek for a moment, and then he lifted the back of my skirt up and tucked it into my waistband. I stiffened as I felt cool air flow over my bare thighs. I was wet. I was getting embarrassingly wet. Why was I so incredibly turned on?
Staying out of trouble is hard enough for the student with the curves to make any man turn his head. But with a professor who's not afraid of what he wants, even when he knows it's wrong, avoiding trouble becomes impossible ...
Classroom Consequences is a three story bundle of professor student discipline and forbidden older man attraction.
Reader Advisory: These stories are for mature audiences only and feature intensely erotic situations, well-hung older men, pretty young bbw co-eds, spanking, discipline, multiple partners and rough group sex, dominance and submissiveness. All characters are 18 or older.
Approximately 68 pages (17000 words) in length.
---
This book is currently available in epub, pdf, and mobi digital formats, and is on sale for
4.99
It also available on a number of online book retailers, including :

Amazon
Barnes and Noble
Google
Smashwords
---
bbw curvy first time, teacher student romance, school discipline spanking dominance, first time older man younger woman virgin, gangbang menage mfm multiple partners, college professor taboo, bundle anthology, spanking stories teacher student romance college, first time bbw older man, spanking sex stories menage mfm partners
First Published 2016-07-29 by The Red Spot Press