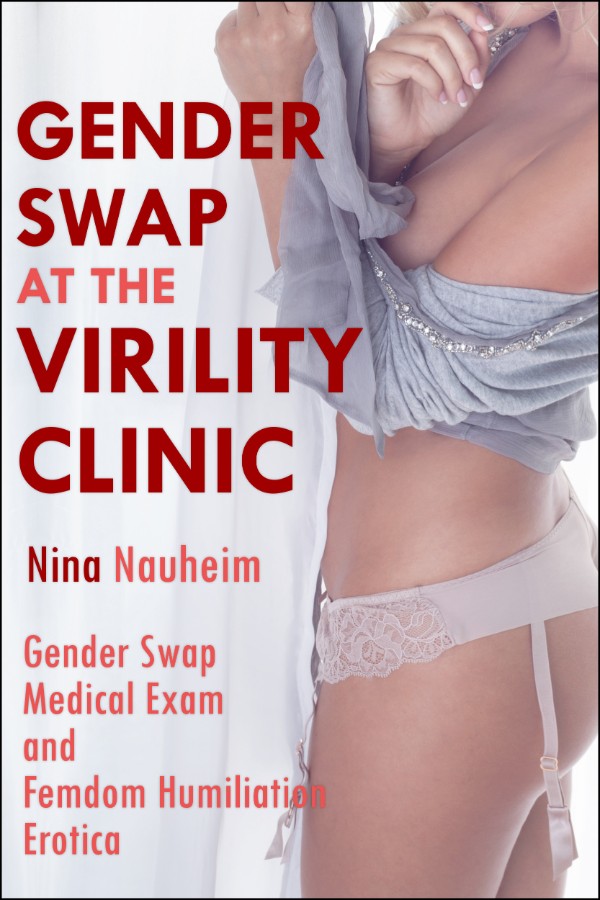 Gender Swap at the Virility Clinic (Gender Swap Menage and Medical Femdom Humiliation Erotica)
Sam Busch's wife of one year still isn't pregnant, and after several doctor's visits of her own she's had the nerve to suggest he get his manhood checked out. More than a little resentful, he makes an appointment to prove to his wife that he's not the problem. But when the beautiful and domineering Dr. Naomi Quail begins to size him up with a humiliating medical exam, she comes to a very different conclusion about his manhood.
As if he's looking for trouble, Sam laughs off her assessment and tells her he shouldn't have bothered asking a woman doctor in the first place. That's when Dr. Quail decides to teach him a little firsthand lesson - in the form of a gender swap treatment - and have a couple of her colleagues step in to show him what real men can do with a woman's body. Sam becomes Sammy, voluptuous and helplessly horny, just in time for Dr. Quail's strapping male coworkers to show up and spread this new patient over the nearest exam table, all while Dr. Quail and the nurses watch.
Reader Advisory: This story is for mature audiences only and features intensely erotic situations, femdom humiliation, feminization gender swap, medical examination, bimbofication and the use of potent aphrodisiacs, public and rough group sex, sexual manipulation, submissiveness and dominance. All characters are 18 or older.
Approximately 38 pages (9600 words) in length.
---
This book is currently available in epub, pdf, and mobi digital formats, and is on sale for
2.99
It also available on a number of online book retailers, including :

Amazon
Barnes and Noble
Google
Smashwords
---
gender swap feminization, sissification, revenge femdom humiliation, doctor patient medical exam, older woman younger man, menage forced femdom, menage gangbang, discipline
First Published 2015-09-10 by The Red Spot Press