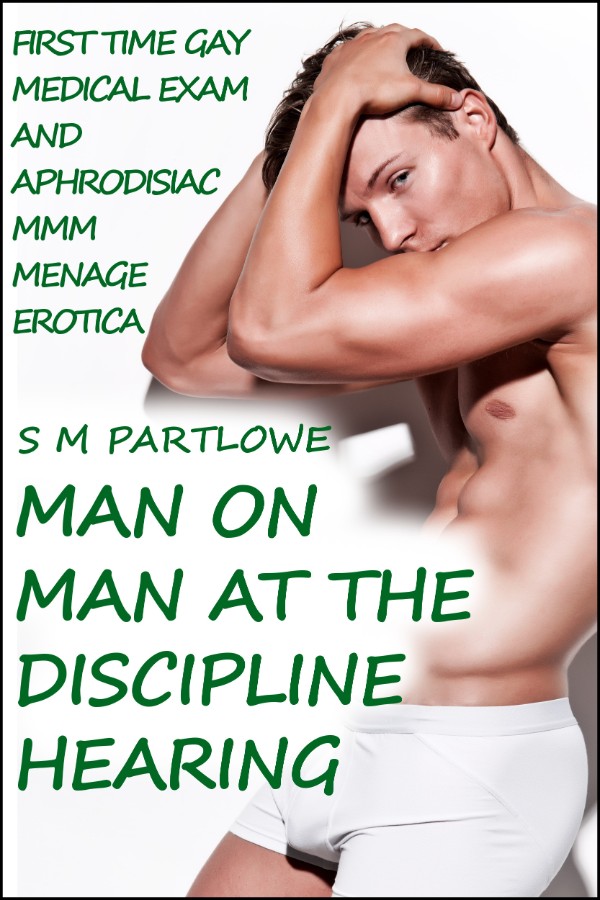 Man on Man at the Discipline Hearing (First Time Gay Medical and Aphrodisiac Menage Erotica)
When Jake Glendale gets called in for a meeting with his boss's boss and a three man discipline board, he assumes it's because he's been letting his work slip since his recent break-up. But within five minutes, he's discovered the truth is much more serious.
They've found the perscription anti-anxiety pills his coworker offered him last week, and they're going to hold him accountable unless he fesses up to who gave them to him. But when the discipline board admits they haven't actually figured out what the mysterious little pills are, Jake swallows them on the spot, right in front of everyone, thinking that without evidence the whole thing will be moot.
But unfortunately for Jake, the pills weren't run of the mill relaxation drugs, and the self-conscious young man who was only trying to stay out of trouble finds his mind and body dwelling on long repressed desires and a sex-drive that's climbing out of control, and right in front of the most powerful men at the company! If that weren't enough, the advisory board has brought in a medical consult, the handsome Dr. Patricks, to help discover what the pills contain, and he's ready to become intimately familiar with the changes Jake's experiencing, and help bring the other men up to speed, too ...
Reader Advisory: This story is for mature audiences only and features intensely erotic situations, a vulnerable younger man and his older alpha male superiors, the use of a potent aphrodisiac, a highly erotic medical examination, multiple partners, erotic discipline and spanking, group sex, anal sex, submissiveness and dominance. All characters are 18 or older.
Approximately 40 pages (10200 words) in length.
---
This book is currently available in epub, pdf, and mobi digital formats, and is on sale for
2.99
It also available on a number of online book retailers, including :

Amazon
Google
Smashwords
---
alpha male, first time gay, medical exam, bdsmerotica aphrodisiac, cmnm mm domination dubcon, power play discipline dominance, gangbang menage mmm, office boss workplace
First Published 2015-04-22 by The Red Spot Press