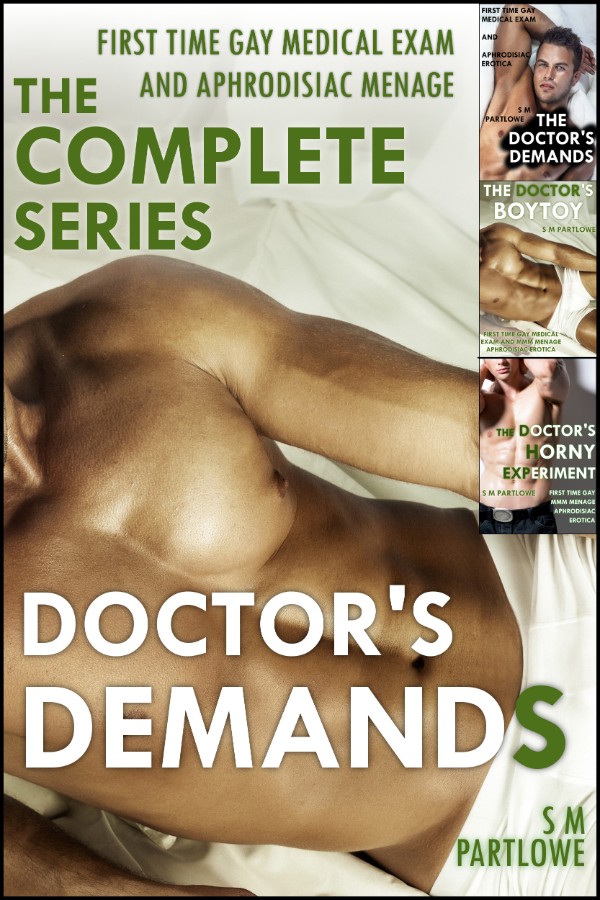 Doctor's Demands: The Complete Series (First Time Gay Medical Exam and Aphrodisiac Menage)
Medical student Josh Daniels never imagined that an internship in in Dr. Lowe's lab would put him at the center of the famous researcher's medical experiments. But when the doctor needs a young straight man for his intense pleasure therapy and sexual behavior modification testing, Josh is soon ready to do anything to fulfill the doctor's expectations.
Reader Advisory: This story is for mature audiences only and features intensely erotic situations, first time gay experiences, the use of a potent aphrodisiac, multiple partners and rough group sex, a highly erotic medical examination, anal sex, a dominant older man and the increasingly submissive, receptive young subject of his experiments. All characters are 18 or older.
Doctor's Demands: The Complete Series follows Josh's transformation into a willing sex toy over the course of the three part series: The Doctor's Demands, The Doctor's Boytoy, and The Doctor's Horny Experiment, now combined in a single volume.
Approximately 100 pages (25200 words) in length.
---
This book is currently available in epub, pdf, and mobi digital formats, and is on sale for
4.99
It also available on a number of online book retailers, including :

Amazon
Google
Smashwords
---
alpha male, first time mm turned gay, gay bdsm mm alpha male, gay mm medical exam, gay doctor patient medical mm erotica, group gangbang mmm menage
First Published 2015-09-03 by The Red Spot Press